Travelling is a great time to discover new designers and talent. This year I was delighted to discover Dutch hand bag designer Heleen van der Meer. I spotted her designs in one of the most fabulous hat shops I have seen in The Netherlands: Cappello in Nijmegen. I spent a long time trying on many fabulous hats, but in the end could not find one that was perfect.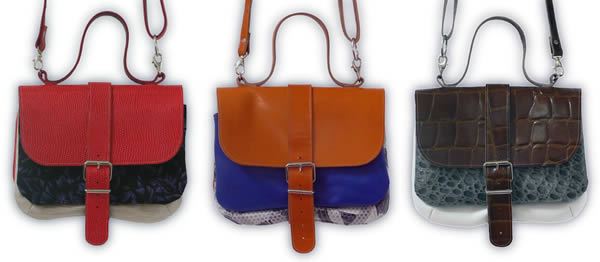 So I moved on to their large bag collection. Initially I was very tempted by a bag from another brand, but then I spotted this versatile little bag. It grabbed my attention as I had just bought some black and bright green shoes and this bag featured the same colour. What is so great about this bag, is that you can just use one colour or 2 or 3. Each of the 'pockets' are buttoned on, so you can either take them (if you have a lot of stuff) or leave them (if you just want to have a small bag). The examples above look very different from the version I have, but the great part is that you can always go back and buy new pockets.
I'm sure you are curious about my bag and how this works exactly but I will leave you curious for a few more days, since today I want to highlight some more designs from her fabulous collection.
It was no coincidence that I stumbled upon Heleen's designs in a hat shop. She started her career designing hats, but quickly found that there was not really a big market for hats in The Netherlands, so she switched to bags instead. All bags are created out of leather and are usually characterised by their ingenious design and use of colour.
The beauty of bags for women over 40, just like other accessories, is that they can elevate your outfit from boring to special. These bags will make it easy to add some colour to an otherwise basic outfit and will give you an instant young and hip look. Bags are ageless and can just add that little spunk to your outfit that will make it fun!
How fun are these for example!
I will try and create a nice outfit with the bag I bought for you to show soon. For now, enjoy Heleen van der Meer's collection on her website and let me know what you think! Which is your favorite bag?

Related posts: