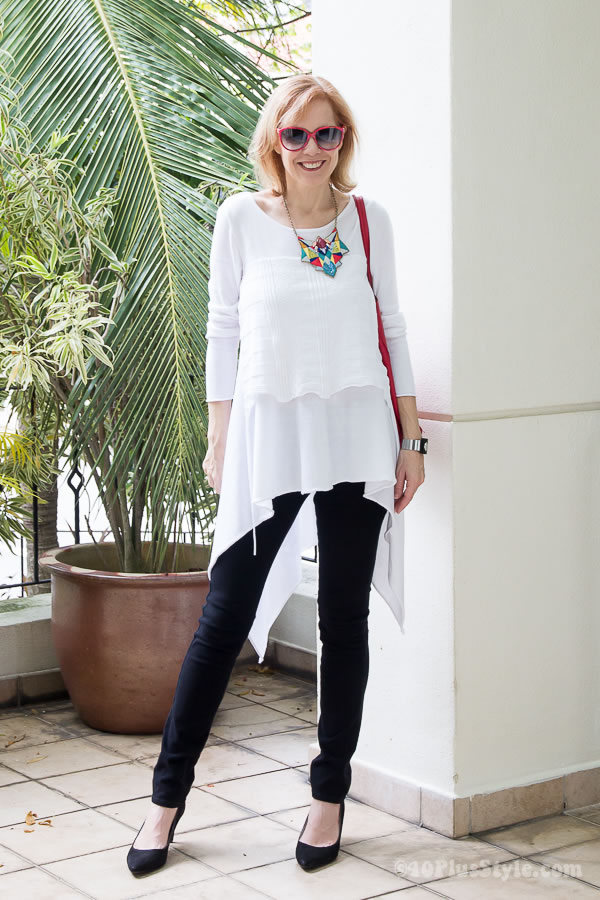 Sometimes all you want to wear is good old black and white!
Especially when you have a new fabulous asymmetrical top to play with. This one from Stella Carakasi plays both with the high low effect as well as triangles.
It creates fabulous vertical lines and gives me an all-round flattering and lengthening silhouette. I also like the way the top moves when walking.
The lengthening effect is further enhanced by my super sleek yet super stretchy skinny jeans from Fabrizio Gianni. These are quite possibly the tightest jeans I have ever worn, yet they are so stretchy that they are still super comfortable. An extra bonus is that they are long so together with some comfortable pumps from Rockport they make me appear to have super long legs. (I don't as a lot of my height comes from my long torso and NOT my legs).
Of course I added some much needed color close to my face which this necklace from Ken Samudio duly provided. I think I should have worn it slightly higher than shown on this photo though. Of course my bright sunglasses help too!
Top: c/o Stella Carakasi
Jeans: c/o Fabrizio Gianni
Shoes: Rockport  (more about these shoes and other comfortable pumps here)
Big colorful necklace: Ken Samudio
Sunglasses: Furla
Do you love to wear black and white? How do you wear it?