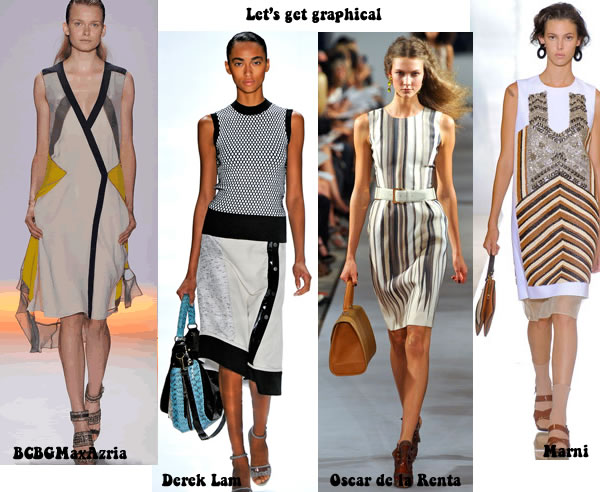 I have already written several posts on the most fabulous trends and designer collections for this coming season and I have now grouped these all together at Spring / Summer 2012 fashion trends.
But let's give a a quick overview of the trends and my opnion on what I think women over 40 should embrace and which trends they should forget about. Feel free to disagree of course and let me know in the comments section!
My favorite Spring / Summer 2012 trends
From all the designer collections shown at Paris, Milan and New York some clear trends have emerged. Here are some of my favorites:
Graphical prints
This is a trend I absolutely LOVE. I covered it before at colorful and graphical dresses for Spring 2012, but above are a few more wonderful examples of this trend. It adds some much needed color to your wardrobe and I love the contrast in the clothes. This way you can add color, but don't have to wear it all over as you combine it with black and whites.
Every woman over 40 needs some color into her wardrobe and there will be lots to choose from in the shops this coming Spring. Orange is the no. 1 hot color of the season, closely followed by green, yellow and red. You don't have to go all out with wearing color though. Often it is enough just to add a few color accents or wear just a bottom or top. Have a look on how I wore my orange pants recently. The green Jason Wu dress also highlights another trend we are seeing, where the hem in the front is shorter than in the back. Although I would have fully embraced that trend in my twenties, I think I will give that one a miss for now. It highlights my knees and they have seen prettier days…
I like wearing drop waist skirts and dresses as I find them irresistibly comfortable. So I am very happy to see this trend again. It was extensively seen at Marc Jacobs which I have featured above but could also be seen at Gucci, Etro, Jill Stuart and BCBG Max Azria.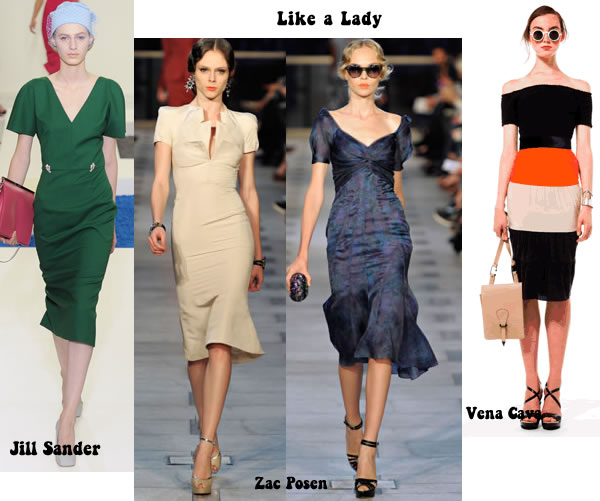 The lady like trend of fall continues with very elegant silhuettes. Incredibly elegent, but tight fitting. This is definitely something I would like to try sometime.
I love white. It's such a versatile color to mix and match and all white with just a hint of something else (be it gold, silver or another color) is extremely elegant. My only concern with white is the longevity of my clothes. They are so hard to keep white here in Singapore.
This is a trend all women over 40 should embrace. The skirt length just on top of the knee is very flattering for most body types, so while it's on trend, you may want to stock up on the midis! A great trend for women over 40.
I don't like to show a lot of cleavage so I'm liking this trend which was seen at Marc Jacobs and Louis Vuitton. It's a classy and chic look.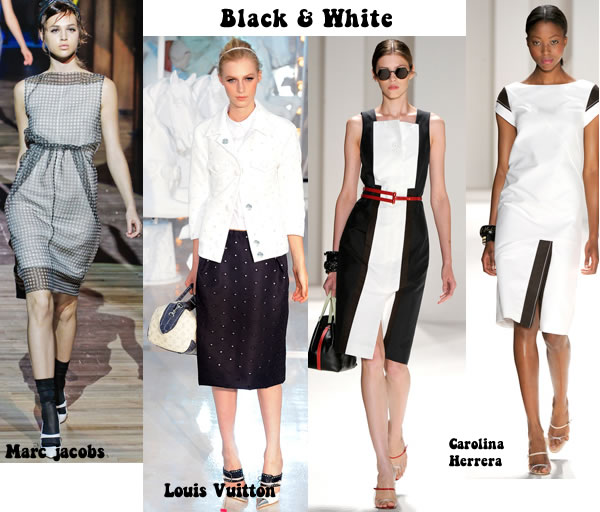 Will I ever get enough of the black and white combination? I don't think so. Clothes in this color combo will last a long time and there were lots of options on the runways. I'm sure there will be many options available in shops. Black is also great to combine with the bright sorbet colors trend and the graphical trend.
Spring fashion trends that I will probably give a miss
There are a few trends that I will happily pass by. Here are a few trends for Spring and Summer that I'm not going to indulge in.

This is really not my thing at all. Certainly not the kind of big prints that were shown on the runways. I do like pants with subtle stripes though.
The collections featured lots of busy prints, embelishments, plastic, big roses, glittering brocade, and neo-colored embroidery.  This trend is definitely a no for me as I'm more a less is more kind of girl. I also think most women over 40 should stay away from this. It can too easily become theatrical and overwhelming. Much better to go for a more minimalist look if you are aiming for elegance. Although I'm sure some women could pull off this trend with high class and style!
In sharp contrast to the bright sorbet colors, there were also quite a few soft pastels, like baby blue, soft green, and baby pink. Although there were certainly some good dresses in those colors (I loved Diana von Furstenberg's collection) I'm not going to stock up on baby blue and pink garments. I have just never been into those really soft pastels, and these are hard colors to pull off for many women over 40.
Sports clothes as regular clothes are in fashion. Although I'm a great sports lover and love to dress up in great sports clothes, I'm not that keen on wearing sports attire while I'm going out. I quite like the peplum trend, but think it will be too short lived and too trendy. I'm definitely not into metalics for my clothes!
How the trends are translated in the stores
This wraps up my Spring / Summer 2012 trends overview. In the upcoming weeks, I will look at all of my favorite trends separately and show you what's available in stores for these trends right now. If you have found some great pieces for a particular trend, let me know and I can feature them!
Which is your favorite spring / summer 2012 trend and how will you wear it? Let me know in the comments below!

Images from Style.com