Although the summer is not yet over the shops are already full with clothes for Fall in the northern hemisphere so let's have a look at the best fashion trends for Fall 2014 for women over 40!
I feel this season is all about comfort. Clothes have a relaxed fit like the many knitted sweaters, skirts are oftenwide and longer or otherwise stretchy and pants are more sporty.
There is a great variety of silhouettes and styles so you should be able to find a style that suit you!
Let's look at the main trends that will be great for women over 40.
Knitted sweater exuberance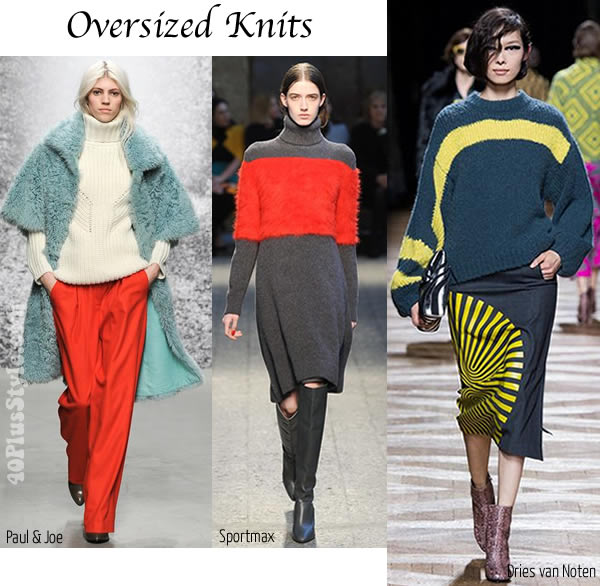 One of the biggest trends for fall is the knitted sweater. It ruled the runway and was seen in all shapes and forms. Although many knitted jumpers were spacious and oversized, there were plenty of fitted versions too. Or wear a long tunic-like sweater over pants or as a dress. You cannot go wrong with knitwear this fall!
Gray is the new black!
Black never really goes away of course but there was lots of gray on the catwalks and currently in shops. Gray can be a great color for many women over 40, provided you wear it well. It often looks great with white, but also combines really well with lots of other colors like pink, blue and red.
Pile on the layers!
Anything goes when it comes to layering this season. Have fun with different silhouettes and stay comfortably warm while putting on the layers!
Sporty classics
Pants were more spacious and relaxed. Sporty fabrics are combined with classic tweeds and create an overall sporty chic vibe. Perfect to combine with a fabulous knitted sweater. It's nice to create to juxtaposition with dressier items on top, like a fitted blazer.
Long coats
Coats are long and sleek but not as boxy as in last season. They tend to be slightly waisted and go all the way to your calves. In some collections the waist was further emphasized by a belt.
Red hot
All variations of red were well represented on the runways so embrace this beautiful warm color this fall and winter! Pink and red was often spotted. Red will also look fabulous with the very current gray and winter white.
Bohemian flair
Lots of prints and designs exuded a bohemian vibe, which are perfect for the more romantic among us.
Bold and arty
For those of us with an artistic vibe there were beautiful prints in tops, pants and dresses. The general vibe for print is geometric and arty. If this trend is a bit too much for you, bring a bit of that bold and arty vibe to your accessories, such as your hand bags, shoes or jewelry!
Long skirts
It feels like longer skirts have really hit the mainstream as you see them everywhere now. Most of them are A-shaped and go over the knees but there were plenty of straight skirts which were often stretchy.
Over the knee skirts are not the easiest length to wear as they can make you look older, so it's important to wear them with something hip & fashionable on top.
Dark green
Dark green is another color that is popular right now. It's a great alternative for black and beautiful to combine with another trendy color: copper.
Mix with Copper
Hues of brown have been out of favour for a while, but I really like this new copper color which will look fabulous on many 40+ women.  Combine it with other colors such as orange, red, yellow and white.
Conclusion
Although these are the main trends, you will find that there are all kinds of colors and styles in the stores. Animal print is still popular and wearing a lot of texture. There is so much variety that there will be something for eveyone. Try to choose those pieces that work best for your body type or the silhouette that makes you feel your best.
Be creative and see how you can update your current wardrobe to accommodate some of these trends. Sometimes, all you need are a few current items to give your wardrobe a lift.
I will go through many of these main trends individually and will show you how to wear them in a more practical way with items currently available in shops.
If you like to see more of the runway trends you can check out all my favorite looks on my 2014 Fall / Winter trends Pinterest board.
Which trends for fall 2014 take your fancy?

All runway images by Style.com
P.S. I created a special PDF version of this trends report for my newsletter subscribers who will receive it soon. If you want to get hold of one too, be sure to subscribe to my weekly newsletter! If you tick the 'daily' option, you will receive articles in your inbox soon after they are published.