It's that time of year again; a new season and new trends. Time for another report of the best fall 2013 trends for women over 40!
This trend report focusses on the trends as shown on the catwalks of all the major cities: New York, Milan, Paris & London. These are the designers that have a major influence on all the fashion that will shortly arrive in all the shops.
If you cannot relate to high fashion, don't worry. I will translate each of these trends in the coming weeks and show you how these trends are applied by more affordable brands, more mainstream clothes and how you can wear them. For now, enjoy the best of what our best designers have to offer and let me know which trend appeals to you most in a comment below.
The more manly or androgynous trend was omnipresent and many of the other major trends (male prints, the power of blue, oversized coats) relate to this main overall trend. Clothes are wider and more angular.
Herringbone, houndstooth, pinstripes combined with feminine draping and cut make for an interesting look! Women over 40 should be careful with this look as it can be aging. So go for a modern design or wear printed 7/8 pants combined with your hippest shoes.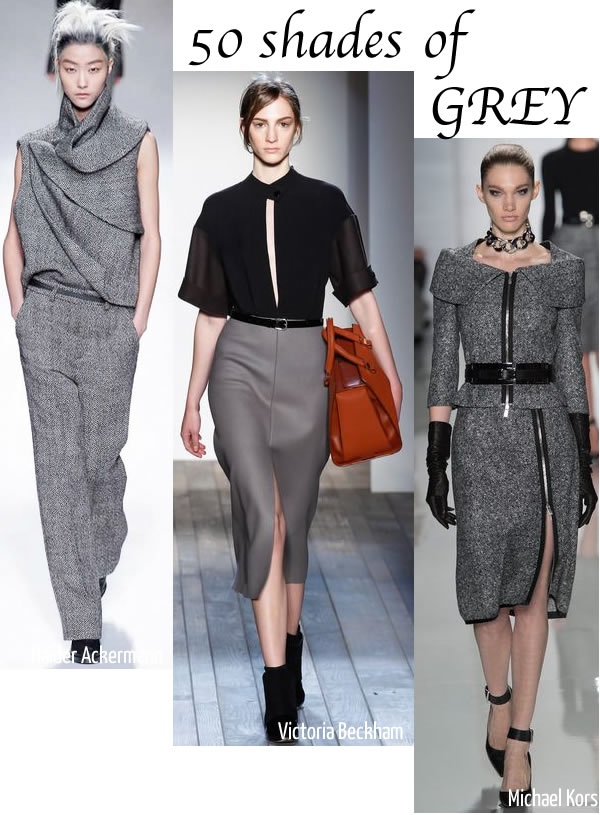 Neutrals are back in full force and grey is one of them. Wear head to toe grey or colourblock with white, black or a brighter color. Be sure to wear a colorful coat so you're not too grey!
Oversized coats are a huge trend this season. Most designers showed them as long straight coats although shorter oversized coats were also seen (at Jill Sander for example). This fits within the trend towards more androgynous dressing and can be great for women over 40 if paired with more elegant clothing. Why not select one of the more colorful ones to bring more color on the streets in winter?
It may just become the new black as all shades of blue were spotted on the runway. Or you can just combine it with black which is still a popular color combination.
Quite a few collections were influenced by grunge and punk. It was seen at Yves Saint Laurent, Chanel, Dries van Noten and Junya Watnabe among others. Although this is a trend more suitable for younger women, women over 40 can still pick one or 2 'rebelious' elements from this style to make their overall look more funky and edgy.
You all know I'm a fan of white so I was happy to see that winter white was featured a lot. Seen at BCBG Max Azria, Celine, Salvatore Ferragano, Stella McCartney and Hugo.  Wearing white is very chic and elegant, certainly when the designs are as unique as the ones shown above.
The colorblocking trend is still strong but the colors are a lot more muted. Lots of black and white (as always) but also shades of grey, blue and cream. Easy to combine with some of the other trends like rounded shoulders, straight coats or womanly wide skirts.
If you like sparkles and embelishments then you should find plenty of clothes to suit you. Balmain, Moschino, Naeem Khan and Marc Jacobs  and the designers above were just a few who put on the bling.
Yes it is a suit but with something extra. Chic for both day and evening. Look for special details like a cape, a unique color or original design.
The new 50s
All that masculine vibe needs an opposite and it was delivered in spades with a very elegant take of the 50s new look. Wide skirts and dresses that emphasise the waist. Skirts are also combined with belted jackets. This trend will look fantastic on many women over 40.
 
The oversized top trend has gotten stronger this season and can look fabulous if proportioned well.
If you are into fur then there are many ways to wear it this season as many designers used fur in their collections. Be mindful that fur can have an aging effect though so be sure to wear it in a young and hip way!
More inspiration!
Lots to choose from this season and there are many more styles on my fall 2013 fashion trends pinboard for you to enjoy. I couldn't possibly feature all that is fabulous here. Stay tuned when I go more into depth for each of these trends in the coming weeks.
What are you most looking forward to wearing this coming season and what is your favorite trend?