Over the last week some of the world's best designers have shown their (haute) couture shows. Although these dresses are unaffordable for most, they still offer great inspiration and give us a glimpse of new colors and trends. Many of the world's designers will be inspired by these dresses and cheaper versions will hit the stores throughout Spring and summer.
Here are my favorite dresses and suits for women over 40 from the 2012 couture shows in Paris.
Chanel
Chanel's show was all about blue and featured a lot of cobalt blue (very on trend) but also lighter and darker tints of blue. I love the straight dresses with the big pockets. Always great for a stylish and casual look. I like the big wide necklines and when you combine that with a very long jacket in the same fabric, it just looks incredibly stylish!
Alexis Mabille
Alexix Mabille's show started with a quote from Marcel Proust—"It is only women who do not know how to dress that are afraid of colors". Something to consider and think about… Here are my favorite colorful creations.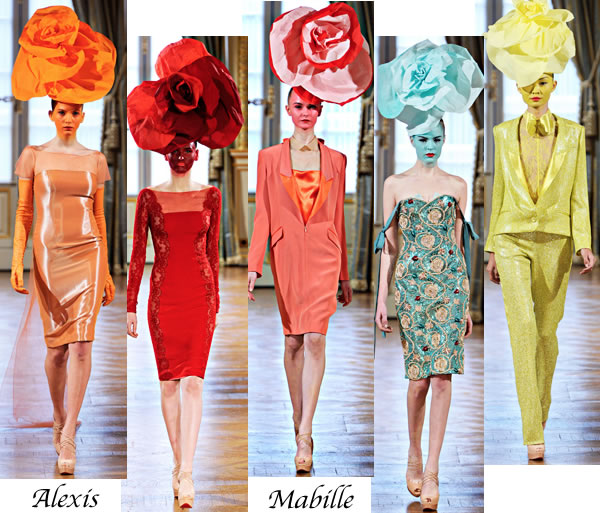 Armani Prive
I mentioned in my earlier post on the best evening dresses to wear to the Oscars, that I loved Armani Prive's collection, featured at the top of this post, which is full of moss green and a few purples. Lots of asymmetry  and drapery as well, which you all know I love, with wonderful silhuettes.
Bouchra Jarrar
I liked the simplicity of this collection. The short belted jackets over classic pants, the simple grey and black dresses and the chic long skirt with wide top.
Do you have any favorites from the latest couture collections?