Amsterdam can be a treasure trove of beautiful stores where you can find the most amazing specialised stores. This year I stumbled upon a store where they sold lots of beautiful textiles. Of course I was most attrached by the amazing hats they sold there. According to their website all of their products are sourced in central Asia, which always surprises me. Even though I live in the Asian regian, it is really difficult to source items as beautiful as these.
They stored beautiful felt scarfs too like the ones above and below.
But of course I was most attracted to the hats. The little fancy blue hat below is absolutely gorgeous!
My friend Liliane thought so too. Even though she had just bought herself a black hat which I showed you before, she was very attracted to this blue / purple hat. I think it looks absolutely fabulous on her!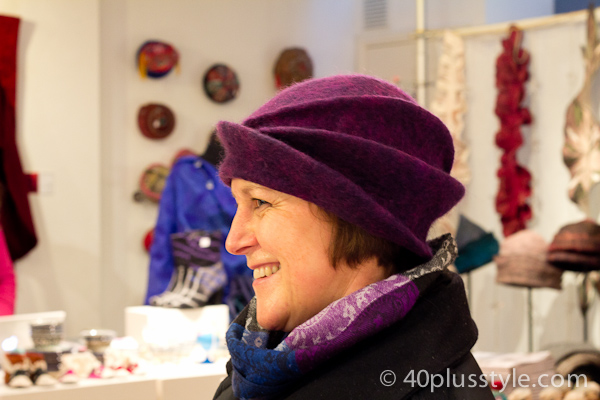 They stored fabulous colorful boots too. These would really make a statement with your outfit!
Proud owner Marianne Tuerlings.
I'm happy to say that Liliane did walk away with this beautiful purple hat.
I was very tempted too, but after having already bought a few hats in Holland and living in a (too) warm climate, I decided to pass on it this time. Of course, I know where to find this shop now and I'm sure to be back in the summer.
Shirdak is located on Pringengracht 192 in Amsterdam and more information can be found on their website.
 Did you see anything you liked in this store?

Related posts: