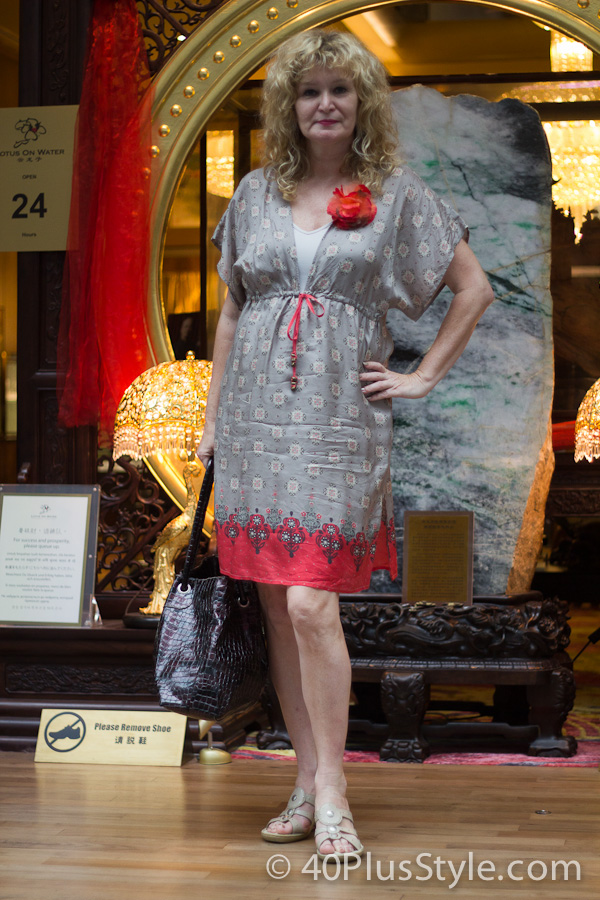 Anja is a friend of mine. You will see her more often on this site as we share a love of photography and like to go on regular outings together to take pictures and become better photographers.
Of course we like to discover new shops and beautiful things and most of these are found in shopping malls here in Singapore, which is the reason that many photographs are taken indoors. Not perfect in terms of light, but we we can usually find some interesting backgrounds to compensate for that.
Anja is also a perfect model for the apple shape body type discussed earlier here at 40+Style. Like many women in their fifties she was unlucky enough to put on some considerable weight around her tummy. However, you would never be able to tell from these pictures, as this perfect dress for her body shape shows of her beautiful legs, arms and decolletage.
I love the way Anja accessorizes her dress with the beautiful flower corsage on her dress.
Dress: Sussan
Shoes: Bata
Corsage: H&M