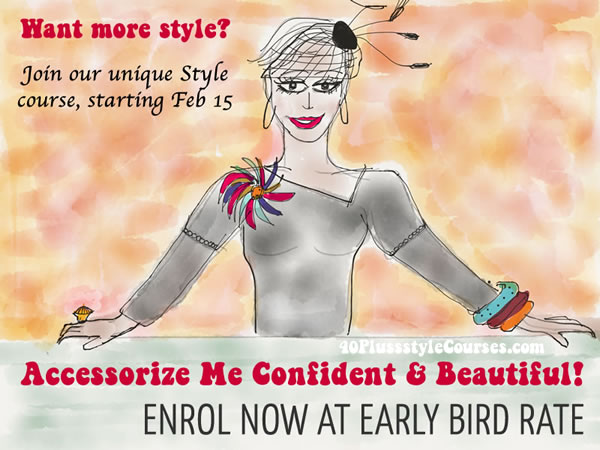 If you have followed the story of my style journey, you will know how I went from a rather frumpy and very casually dressed 30+er living in Australia to a much more polished 40+ er in Singapore.
As I mentioned in my articles and showed you in the videos, I believe that the key to my style transformation was accessories.
I went from no handbags, to a nice assortment of styles with bags for every occasion.
I went from wearing comfortable shoes all the time that were practical to wearing shoes that suit the occasion better. Most of the time still comfortable, but much more fashionable and unique than my previous shoes. And I started wearing heels which I'm really enjoying. And yes, there are heeled shoes that are comfortable and still look great!
I progressed from wearing small, dainty and barely visible jewelry to more elaborate pieces that suited my personal style better and brightened up my face or gave the arty vibe that I like in my outfits.
Then there was the more effective use of belts, watches, rings and glasses. All of them leading towards a more stylish me.
I have accumulated all that I learned over the years about accessories in my new course Accessories Me Confident & Beautiful.
This course took me a year to finish (and I'm STILLL working on it!) and contains everything you need to know about accessories.
It will answer all your questions about accessorizing and creating complete outfits that represent you in your best light. Making you feel confident & beautiful!
Actually, the course will never be 100% finished as I will update it constantly with new findings, new insights and new answers to any questions you may have and if you sign up today, you will have access to all the updates for the lifetime of this course.
The course will contain lots of examples and inspirational photos too from both myself and some of my favorite 40+Style stars.
I have also included several bonuses in the course as I wanted to include popular topics such as creating the perfect silhouette and how to downplay those bodyparts like your belly that you would rather not show to the world.
It's promising to be a lot of fun and very interactive as many women have already signed up.
I would love for you to join me too. 
I promise you that you will learn a lot about your own unique personal style and that you will have a lot of FUN doing so!
Right now is the absolute best time to join for 3 reasons:
You can enrol at an early bird rate!
Many women will start at the same time which means the activity and interaction in the forum is the highest.
You will be forced to go slow through the course which is a good thing! You will only get one unit each day, which means you can take your time with the assignments, have time to interact with the other women and reflect on your own personal style. My experience is that when you go slowly through my style course, you will get the most out of it!
Still have questions about the course or just like to connect? Join me for a live chat!
I so much enjoyed connecting with you through my webinar that I want to do it again! This time in a way that I can actually SEE you. It takes place on Saturday 13 February at 9pm EST. You can subscribe to the chat here.
Blab is a new online tool that allows me to chat with you in real time. My special guest will be Patti from Not Dead Yet Style whom many of you will already know. She is one of the featured style stars in the course and I will chat to her about accessorizing.
2 seats are left for you! You can ask to have a 'seat' by calling in and then ask your questions in real time on camera  or just have a chat with us. There is room for plenty more women who can watch the chat live online from the sidelines.
It's the first time I'm doing a live blab and I think it's going to be lots of fun. I will actually be able to see you (so if you want to enter one of the 'hot seats' be sure to wear something nice!) and answer any questions you may have about accessorizing or my upcoming course straight away. If you don't feel like being on camera, then that's fine too. You can just watch the chat from the sidelines and just type in your questions or feedback.
Blab is free to join and very easy to learn so I hope you will join me and Patti for a casual chat. Just sign up on Blab and then subscribe to our scheduled blab for this Saturday and you will get notified when the blab starts. You can follow me on Blab here.
I hope to welcome you and connect with you in the course area or see you this Saturday at 9pm EST at my Blab chat. (apologies to my European readers again; I will record the chat session and will schedule another blab later that is more suitable for European readers).
For now, please tell me, what would you like to learn about accessorizing?

P.S. For more information or to enrol in the course just click here.
Related posts: