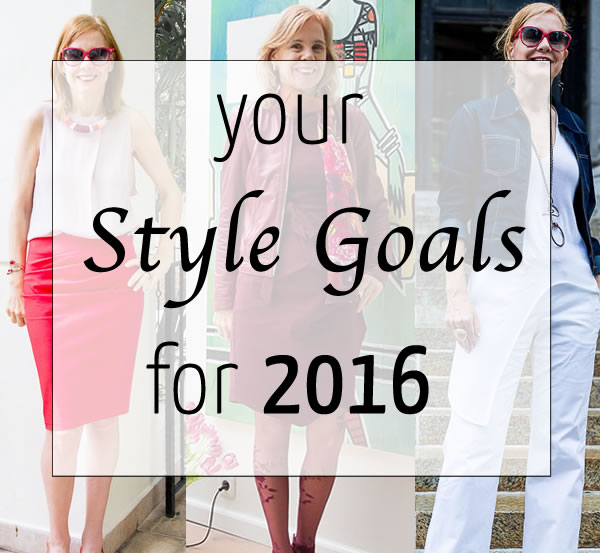 Welcome to a new year of 40+Style! In the coming year I hope to inspire you even more with more articles, more inspiration and more style courses!
How happy have you been this last year when it comes to style?
The start of a new year is always a good time to reflect. To look back at what went well and to look forward to what you would like to improve.
You may want to go through this process with regards to your family, friendships, health, work etc. But it's also good to reflect on your personal style.
After all, your style has an impact on your life too. If I'm happy with my style choices I often feel better and can take on the world with more confidence.
So let's look back and forward and review our style goals.
Reviewing your style goals
If you did not set any style goals for the year, you may like to consider this. They can help you keep on track when it comes to your style and may clearly show you where you need to improve.
Last year I made a list of some my style goals. Things I wanted to achieve in terms of style.
I did well on quite a few of them. I focussed on interesting neutrals and made them more interesting with original shapes and accessories. I stayed (mostly) true to my minimalist, architectural style.
I did not do so well on incorporating more earrings into my style even though I still think that would be good for me as it adds interest and color to my face. Since I use very minimal makeup (my eyes especially always feel irritated whenever I apply eye makeup), I need to add color or interest through different ways.
I also feel I could improve on buying fewer, more longlasting items. I often use my job in fashion as an excuse to buy more but I feel it's not a valid one as my job (which is home based) does not require a lot of clothes. The challenge is to buy pieces that I will like for a long time. For someone that craves continuous change, that is tough. That is one reason I use the power of accessories a lot to change my outfits.
I experimented with buying some higher prices items but did not find that they were necessarily more successful than cheaper items I bought. On the other hand I bought a few items on sale because of perceived good value and good fabric that could have been better left in the store. I think the key for me is to really evaluate each item and go through my YES and NO lists of characteristics that my clothes need to fulfil. Only when an item meets those requirements should I buy it.
I experimented with a longer hairstyle but came to the conclusion at the end of the year that it's too much work to maintain it. Shorter hair fits my style statement of modern freedom better.
Setting your style goals
If you like to set your own style goals you may like to ask yourself some of these questions:
What clothes worked well for me this year and made me feel amazing?
Which clothes did not work?
Which clothes did I frequently miss? (what are the gaps in my wardrobe?)
Did I buy too much or too little?
Which clothes suit my personality and body type?
Do I have enough accessories to complete my outfit?
How well did I groom myself?
Is my hairstyle up-to-date?
What are the words that define my style?
If you struggle with many of these questions, I can highly recommend my style course which has already helped hundreds of women find their style. It's a step-by-step journey that lets you discover your own unique style and what works and what doesn't. The start of the year is an excellent time to take this course.
As for myself, I continue to love my architectural and graphical clothes the most. I very much miss layering (since I live in such a hot climate) but will attempt to do it more as I like the extra interest and texture it creates. Here are some of my style goals for this year ( I limited them to 10 this year which will be easier to refer to).
Continue to find interesting, architectural pieces in natural fabrics that focus more on style rather than fashion.
Don't be seduced by good brands or good fabric alone, but rather focus on quality and suitability of the whole piece and take it through my yes and no list. Quality pieces can also be found at affordable price points. Continue to use a combination of designer and high street brands.
Make my outfits more interesting with architectural and contemporary jewelry.
Incorporate more earrings into my look.
Wear a combination of interesting flats and heels but don't buy shoes you can't walk in.
Keep the keywords of my style in mind when buying clothes: modern, contemporary, architectural, comfortable, interesting
Maintain a hairstyle that is easy to style and manage.
Take good care of skin but accept that extensive makeup just isn't for me. Compensate with hat, necklace or earrings.
Focus on doing more with less. Especially when it comes to clothes. It's ok to have more accessories as they don't take a lot less space.
Most of all have FUN with style and don't be afraid to experiment every now and then!
Some of my favorite outfits from last year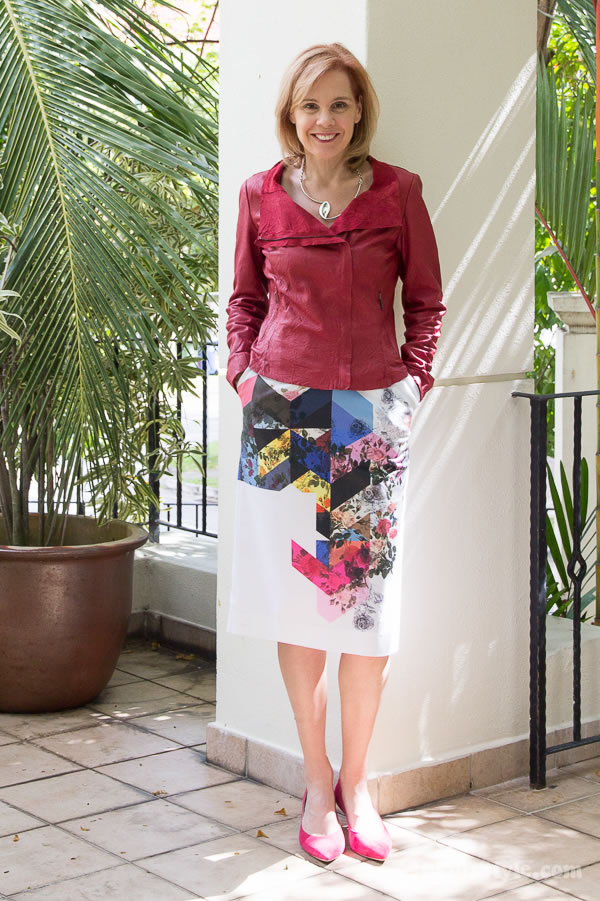 Interesting print and silhouette and mixture of textures and the print at the bottom (original article)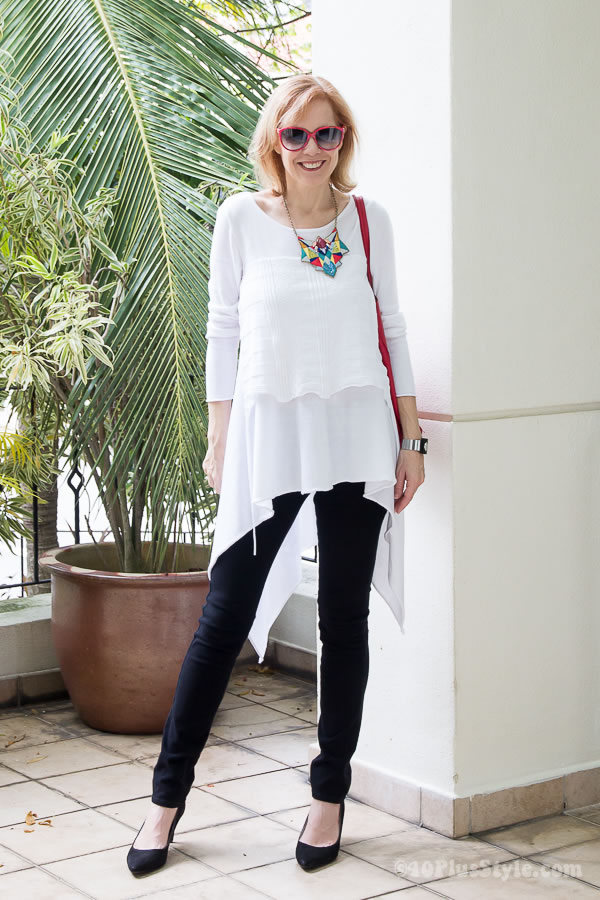 A long and lean silhouette with an archituctural top and the right accessories (original article)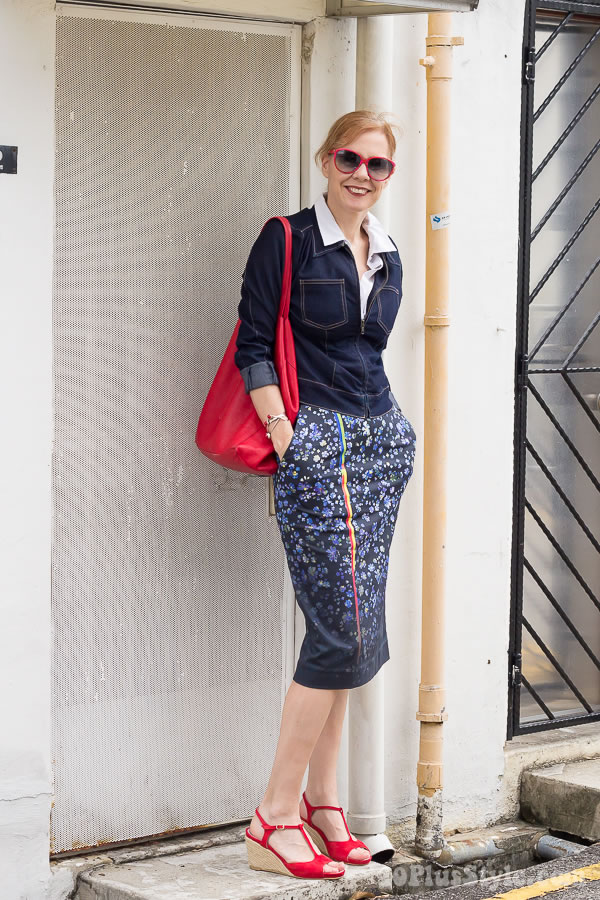 Love the print of this skirt and the pops of color (original article)
Love this color combination (original article)
A different silhouette in monochrome colors (original article)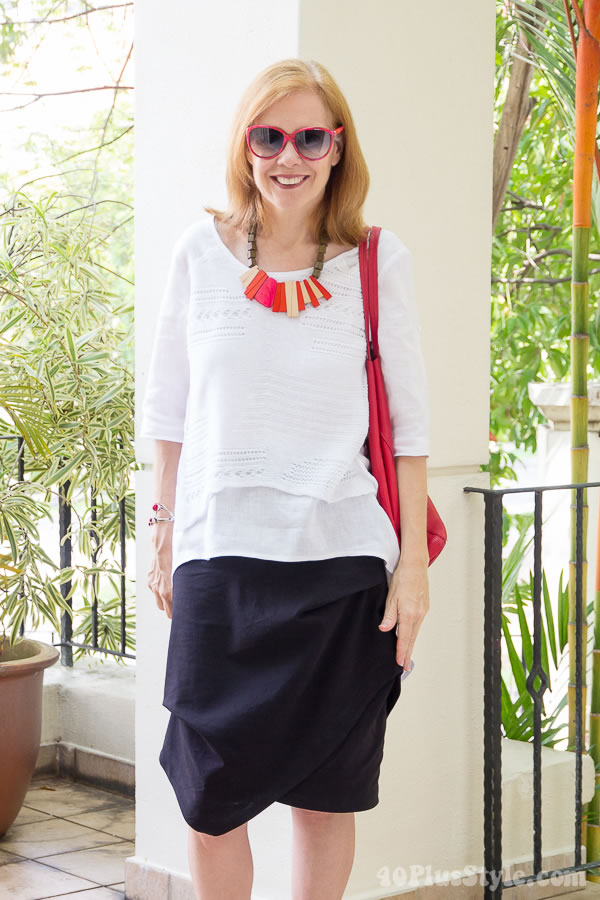 Probably the 2 items I have worn the most in all kinds of combinations (original article) 
A printed dress that I actually like! (original post)

These thrifted jeans have become a real favorite (original article).

A monochrome outfit for winter (original article)
How happy have you been this year in terms of style? What are your style goals?

p.s. Here is the link to the style course again if you like to take your style to a new level this year!
Related posts: