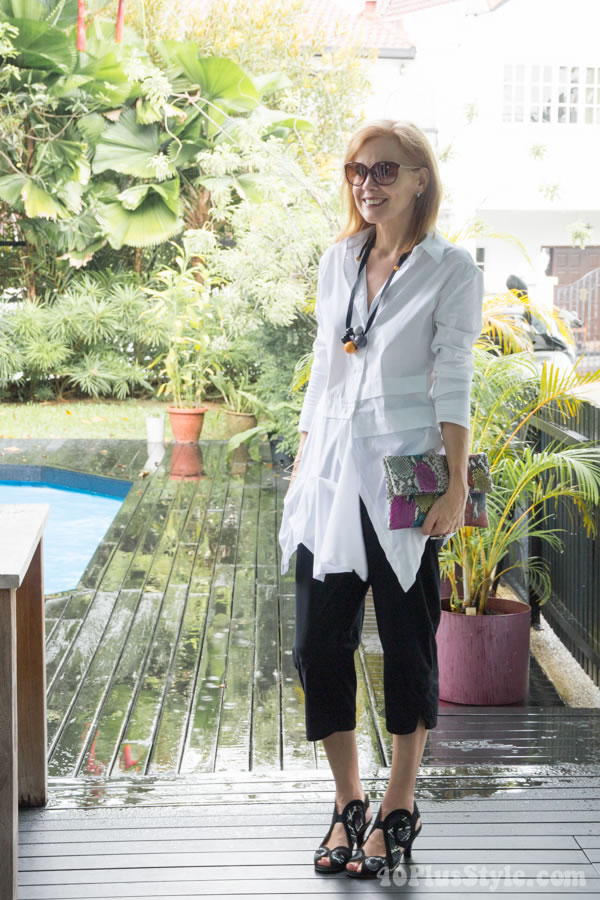 As many of you know I love me a good white shirt and this one is very special.
I'm wearing the Slander tunic blouse, brand Porto and c/o of Getdressed2, a great online store full of well-designed clothes.
The shirt is full of interesting details and little tucks and seams to make it really interesting and fun to wear. It has elastan added to it so it's stretchy and super comfortable. It also makes it easy to scrunch the sleeves to achieve a most flattering silhouette. The black pants are stretchy as well and from Porto too but I don't think they are available any more.
This outfit could be worn in a casual way or casual chic way by adding some heels and a clutch bag as I did here.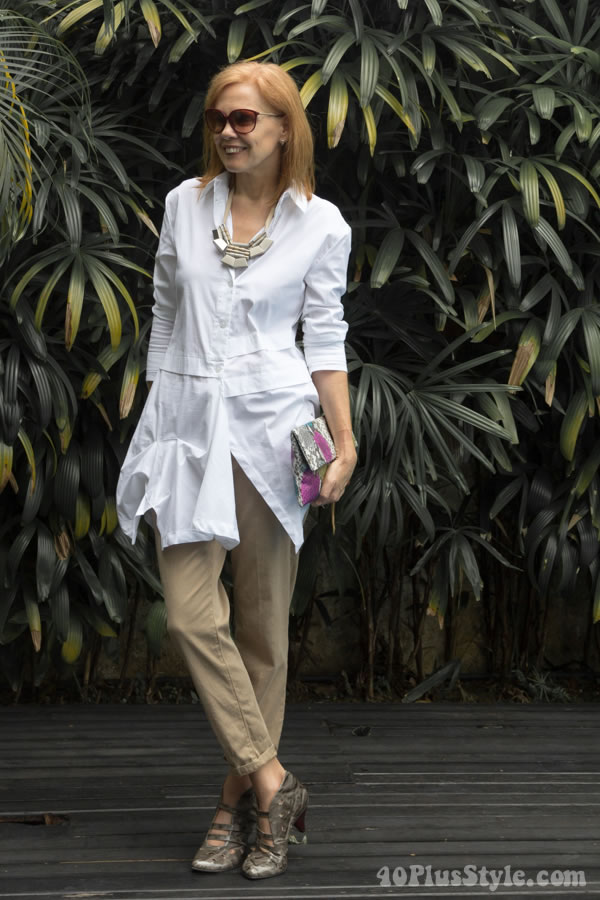 Another way to wear this shirt is to pair them with chinos. These ones have stretch added too and are very comfortable to wear. Again this would be a perfect casual outfit if you paired them with white sneakers or flats but I chose heels for this occasion and added my clutch which does such a great job of adding additional interest to many of my neutral outfits.
Of course there are many other ways to wear this shirt as well. As it's long, it's ideal to wear with leggings for example.
Are you ready for the 40+Style casual style challenge?
I'm still in the process of getting things ready for the 40+Style Casual Style challenge. It's going to be fun and it's free! Have you signed up yet?
You will learn how to create a versatile casual chic wardrobe that allows you to mix and match your clothes so you can wear completely different outfits every day with a minimum of clothing items.
Sign up by filling in the form below (it's free!)

Outfit details:
White shirt: Porto c/o Getdressed2
Black pants: Porto c/o Getdressed2 (old)
Black and white shoes: Lisa Tucci (old)
Black yellow necklace: Dogstar Clothing
Brown chinos: Zara
Grey shoes: Lisa Tucci (old)
Grey necklace: In Good Company
Clutch: Suzette
How would you wear a statement shirt?

This article contains affiliate links