Can you dress for less and still look fabulous? Of course you can!
Today, I'm going to be featuring 5 great looks for less than $100 per outfit. Take a look and let me know if any of these looks inspire you!
Look 1: Summer nautical chic
Breton tops just never go out of style, do they? Here I've paired a stripey Breton short-sleeved top from the Gap ($19.47 if you buy it from Gap online and use the code SMILE for 35% off) with a pair of NYDJ gabardine summer pants in white from Yoox.com ($47), and simple white strappy sandals with a low heel from the Nine West sale ($29.99 online for a limited time only, down from $59). All in all, this chic nautical look comes in at $96.46, which isn't bad at all!
Look 2: A summer print
Some prints are extra busy – to break it up a little, pair prints with cool, crisp white shirts and simple black or white accessories. Here we have a lovely cropped Trouve summer pant in an eclectic blue print ($40.80 in Nordstrom's) paired with a soft white boyfriend shirt from the Banana Republic sale ($39.99 down from $79.50, almost 50% off), and a navy and white Ikat scarf from Cost Plus World Market ($16.99). The white shirt breaks up the prints a bit and you can still have some print-on-print fun. The entire look comes in at $97.78.
Look 3: Celebrity-inspired evening look
I've been looking at photos of Helen Mirren and Meryl Streep online, and I've noticed that although the two women dress very differently (Mirren favors dresses and Streep tailored suits), they each have one thing in common: nipped-in waists. This makes sense – nipping the waist gives the wearer an instant hourglass figure, or the appearance of one at least.
So, here I've gone for a gorgeous J.Crew evening dress in dark blue chiffon, featuring an ultra-feminine nipped-in waist and a very nice price tag to boot – this dress used to retail at $265 but it's now priced at $45 when you use the code COOLSALE on the final sale price at the checkout (that's an amazing 90% off the original price!). To provide a bit of cover for your arms, I've sourced a nice black Alviero Martini shrug at Yoox.com ($18). Silver Jowser D'Orsay pumps from the Nine West sale ($29.99, down from $79, for 62% off) complete the look and bring it in at $92.99 for the lot.
Look 4: Charlotte Rampling look
I've been admiring a photo of Charlotte Rampling lately, one in which she is sauntering down a street in Paris wearing what seems to be an over-sized man's blue shirt, black leggings, and black ballerinas – she looks so utterly and effortlessly stylish that you wonder why all other 69-year olds can't look that good!
Inspired by that photo, here I've gone for an over-sized pin-striped shirt from J.Crew ($29.99 when you use the code COOLSAVE which gives you an extra 50% off the sale price – it was originally $78), a tailored black legging/jean hybrid pant from Banana Republic ($29.99 when you use the code BRSAVE, which gives you an additional 25% off the sales price – the retail price was originally $89.50 so you are saving a total of 66%), and Croft and Barrow comfort ballet flats from Kohl's ($29.99, down from $54.99 for a discount of over 45%).
A leopard-print scarf from Aeropostale adds a Parisian touch ($7 when you apply the sales code of BTS30 at the checkout, which is a 71% saving on the original retail price of $24.50), bringing the total cost of the look to $96.97.
Look 5: Sleek tailoring
Many stylish older celebrities like Diane Von Furstenberg, Diane Keating, and Susan Saradon go straight for the tailored look when out on the red carpet – classic, slimming, and always supportive, the tailored look is a look that flatters almost every type of figure when we are past 40.
This Apt 9 collarless black jacket from Kohl's ($39.99 down from $60, for a discount of 33%) is structured and flattering without being as formal as a collared jacket – it is particularly good on a woman's curves. It pairs well with a slim-fitting, cream J.Crew pencil skirt with an asymmetrical zip detail ($27.99 with the code COOLSAVE, down from $110, a 75% reduction) and a metallic J.Crew tank top that shows a hint of cleavage ($20.99 with the code COOLSAVE, down from $68). A pair of black flat enamel drop earrings from Target ($7.99) completes the look and brings it to $96.96.
How about you? Where do you pick up bargains and steals? How do you put a look together on a budget? I'd love to hear from you!
If you like these looks, shop for them in our boutique, below!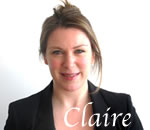 40+Style contributor Claire Vukcevic is a mother of 2 who is passionate about fragrances and how it relates to style. She contributes articles on fragrance, style and dressing to 40+Style. She currently lives in Ireland.
Related posts: