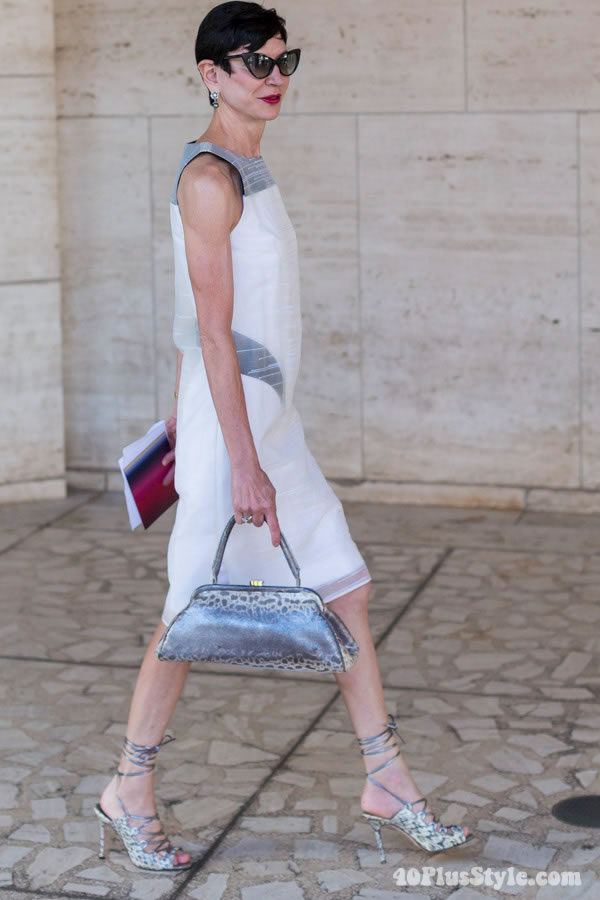 I love this complete look.
All the elements are in perfect harmony to make this outfit young & hip, elegant but very fashion forward, simple yet sophisticated. 
The dress itself is fabulous of course, but the added shoes and handbag make the overall outfit extra hip.
Other features that make this overall look special is this woman's hip hairstyle, modern sunglasses and red lips.
To me the complete picture says that this woman is interesting, independent, self assured, modern and that she understands today's world. I would definitely like to talk to this woman and pick her brain on style!
Whether we like it or not, the way you dress leaves an impression about yourself. I don't know this woman at all but I'm making a judgement based on the way she looks. That is one of the reasons why dressing true to your identity and unique personality is so important. You want to give the correct message about yourself.
You only get one chance to leave a good first impression!
How about you? Do you like this look?
(please be reminded that these are real people who may come across your comments so any feedback you have needs to be brought in a positive and respectful way)

Photographed during New York Fashion Week by Denton Taylor
P.S. If you want to get in touch with your unique personal style, you may like to consider my style course