It's finally here the 40+Style  blogaversary celebration giveaway, which celebrates more than 1,000,000 pageviews and a great year at 40+Style! Time to submit your entries.
My blogaversary celebration giveaway is also part of the Fall Fashionista event, which is the largest Fashion giveaway event on the Internet.
It is hosted by Still Blonde after all these YEARS  and  Modly Chic  and Co-Hosted by K Squared Glamour.  All Fashion!  Only FASHION!  Win more than $20,000+ in prizes with each individual blog having a minimum price of $125. You can enter all the giveaways by clicking through the list of blogs below.
When you enter a giveaway on any of these blogs (including mine) you automatically get one entry to win the grand prize which is this red leather Louis Vuitton bag provided by Bella Bag, valued at US$1200. More info here.
But I believe that the best giveaway is right here at 40PlusStyle! Over the last week I have already introduced all the sponsors and their prices to you but let's do a quick round-up:
Shopthemag.com – 2 faux fur coats and 3 sheepskin belts (US$1110 value)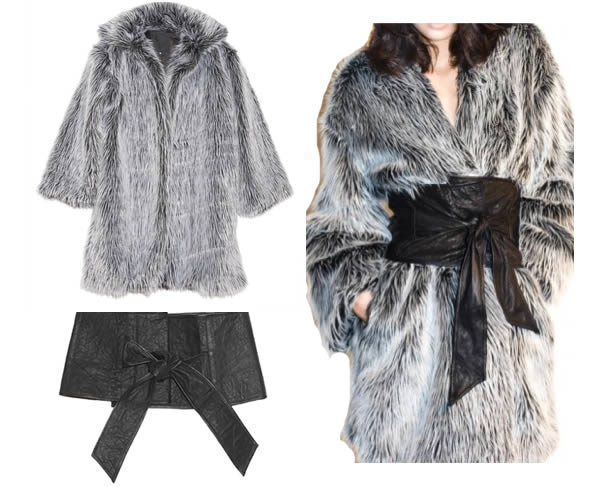 Shopthemag is one of the best online stores in Asia that features the best designers from around Asia. Please read more about them in my introduction article or visit their website.
Shopthemag is giving away 2 Blackheart Faux Fur Coats and 2 Sheepskin Obi Belts. So there are 5 prices in total and these prices can be won by my readers from all over the world and include shipping.
To win this price all you will have to do is to like their Facebook page and enter the form below.
 Alldressedup – 3 leather bags (S$1110 value)
Alldressedup is one of the highest profile Singapore design labels and the brand is stocked worldwide. I love their quirky designs made of exquisite fabrics like silk and high quality jersey. You can read more about them on my article on Alldressedup or visit their website.
Alldressedup is giving away 3 amazing leather bags that my Singapore readers can win. All you will have to do is Like their facebook page and then submit your entry in the form below.
Silvian Imberg – 20 spending vouchers (S$2000 value)
Silvian Imberg is a premier designer label that celebrates feminine, stylish, trendsetting women who have already elevated swimwear to its rightful high fashion status. Read more about the brand in my introduction article or visit their website.
Silvian Imberg is giving away no less than 20 vouchers to Singapore readers. Just answer a simple question in the form below to win!
Verily – $100 spending voucher at Verily online store
Verily is a label from Australia that designs stylish and practical clothing for the 40+ woman. To learn more about Verily read my introduction article or visit their website.
Verily is giving away a $100 spending voucher at their store. Anyone from around the world can enter. To win this price all you will have to do is visit their website and let us know which item you would love to buy. Enter your answer into the form below.
Elitzia – £80 spending voucher at Elitzia online store
Elitzia is a fashion online retailer which offers a broad collection of stylish womens clothing. The Elitzia Collection includes dresses, skirts, tops, trousers,  jackets and accessories aimed at fashion forward women of ages 35 and over. To learn more about Elitzia you can read my introduction article or visit their website.
Elitzia is giving away a £80 spending voucher to at their online store. UK residents only. To win this price all you will have to do is to visit theshop and tell us what item you would most like to own. Enter your entry in the form below.
40+Style – $100 Amazon spending voucher
I have my own price as well! Readers from all over the world are eligible and all you will need to do, is enter the giveaway form below. Spend on clothes, style books or whatever else you like! All you have to do to win my personal price to you is enter the form. Easy! For extra entries you can also take my feedback survey. I encourage you to do all the options in the form to get more entries and increase your chance of winning.
How to enter this contest and use the Rafflecopter form below
Entering is easy.  Just go the the contest form below and login with either your facebook account or your email address. All you need to do is answer the simple question of where you live in the form below.  This will give you 1 entry. After you have done that, you will see a lot more entry options. Just do the simple task for each price that you want to win, which is either liking a page or answering a question. Indicate in the form that you have done it. Each task that you complete will either give you 1 or 2 or 3 extra entries. Some of the tasks, like tweeting about the giveaway can be carried out every day, and will earn you extra entries. The more entries you enter, the more likely you are going to win 1 of these fabulous 31 prices!
Please note that your privacy is completely assured. No email addresses will be shared with sponsors and you will only be added to my email list if you completed the "subscribe to newsletter" task.
Help me spread the word about this giveaway!
One of the main reasons I'm organising this giveaway is to thank you for your readersship and to spread the word about 40+Style. That way I can continue to work on this site and we can create an even better and bigger community of 40+women. Then it's only a matter of time that designers will take note of us and start creating even better collections for our age group. So help me spread the word about this contest and grow our comminity! Tweet, like, instagram, pin it or email to all your friends. Also please support our sponsors and like their Facebook pages or visit their websites. It will help bring you more amazing giveaways in the future. Whatever you can do to help is great!
Please note that I was not given any compensation by any of the sponsors, nor  did I receive any products.
Good luck everyone!
a Rafflecopter giveaway
Can's see the form, access it here.
Disclaimer: 40PlusStyle, Still Blonde after all these YEARS , Modly Chic, K Squared Glamour, Fall Fashionista Events or the Fall Fashionista Events bloggers are not responsible for sponsors that do not fulfill their prizes.