Wow it's 2018!
Are you excited for the year ahead? Or do you feel a bit deflated and feel like you didn't accomplish as much as you hoped for in 2017?
For me the end of the year is always a time to reflect. I look back at the year that was and look at the year ahead and wonder what went well last year and what I'd like to improve or achieve this year.
I think about my lifestyle, career goals, freedom goals but also about style. I don't really make resolutions but reflect on where I'd like to be at the end of 2018 and what I hope to accomplish.
You may want to go through this process with regards to your family, friendships, health, work etc. But it's also good to reflect on your personal style. Your style either directly or indirectly affects these other areas of you life too and if you feel happier and more confident it will have a ripple effect.
After all, your style has an impact on your life too. If I'm happy with my style choices I often feel better and can take on the world with more confidence.
So let's look back to review 2017 and then forward and formulate our style goals. To make this easier for you and to keep a permanent record I created a 2018 Style Planner for you where you can reflect on the year that was and set your goals for the new year.
You can download it for free below.
Some reflections on my own style this year
If I look back at my own style this year, it was a year with more color and print. I felt this was needed as my wardrobe lacked a bit of color and variety. I may have overstepped the mark a bit though as prints and color are not part of my core style which is more architectural and minimalist.
Still, I feel that I have everything I need in my wardrobe right now and it's easy to mix & match clothes for almost any occasion.
I have been able to scale back on purchases and have worn a variety of clothes multiple times.
I'm very happy with my current 'uniform' of cropped cigarette pants and a special top which is also a quick formula to get ready really quick or for those instances when I don't know what to wear.
I found a new hairstyle that I'm happy with but I may change it anyway as I love changing it up. I'm due for a haircut right now and I'm thinking of going even shorter!
I felt I've stayed within my budget and there haven't been any big misses this year.
Looking ahead
For the new year I want to simplify even more. Even though maximalism is hot right now, I want to stay true to my minimalist core style.
I want to add color through accessories like necklaces, earrings but also bright lipstick.
I want to have fun with my hair and get a style that's even easier to manage and style.
Words that will define my style this year and that I will focus on are: ease, natural, interesting, contemporary and creative. (if you want to find your words, there is a big list of inspiration words in the workbook).
Some of my favorite outfits from last year
Here are some of my favorite outfits that I still wear regularly. For more details and to see the specific article, just click on the image.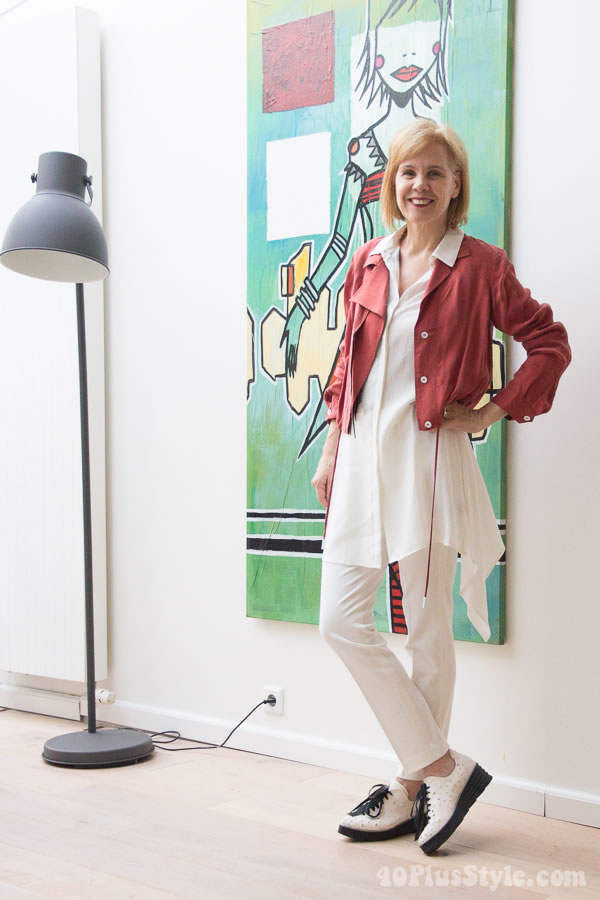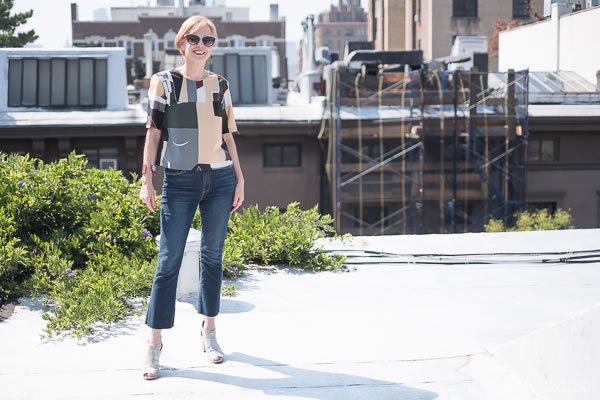 So how about you? How would you review your style this year and what do you hope to achieve in 2018? You can download your free style planner below.

p.s. If you like to achieve more in terms of career and business, I'm creating a free 2018 biz planner too! If you want to get notified when it's ready be sure to click here
Want to get more articles from 40+style in your inbox, subscribe here.
You can also connect with 40+style on Facebook, Instagram or Pinterest.
Support 40+style by using the links in our articles to shop. As an associate for Amazon and many other brands, we receive a small commission (at no cost to you) on qualifying purchases which enables us to keep creating amazing free content for you. Thanks!