Those that keep an eye on my Pinterest Board may have noticed that I pinned all my favorite looks from the Pre-Fall collections that were presented recently. Pre-fall collections bridge the gap between the spring/summer and autumn/winter shows. Clothes from the pre-fall collections will usually hit the stores in May.
Collections from the 2013 Sping/Summer shows have started to hit the stores, so before we will start talking a lot about all the latest Spring trends, let's have a quick look and see what lies further ahead.
As you may know I like looking at the trends ahead of time, since it prevents you from buying the wrong trendy clothes. I always feel a lot more confident buying something, knowing that a certain trend will continue over a longer time.
So what are some of the trends spotted in the pre-fall collections?
1. Beautiful Chic suits
I love the amazing suits presented by Bottega Veneta, Max Mara and Stella McCartney (pictured above). So classy and easy to wear for many women over 40. Max Mara had many different variations to choose from.
2. Lovely combinations of reds and rust
I love these colour variations of reds, rust and browns which were presented by Matthew Williamson and Narciso Rodriguez.
3. High contrast
The fascination with high contrast black and white continues with many designers featuring this trend.
4. Beautiful drapes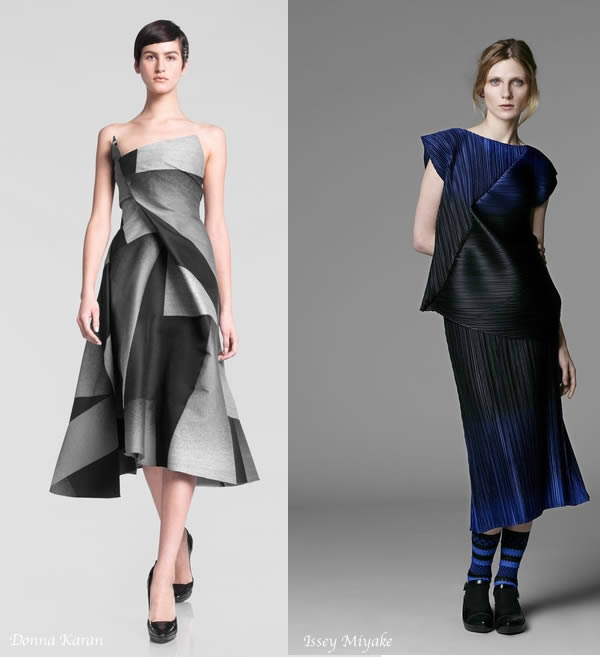 Beautiful dresses and skirts are a woman over 40's best friend and Donna Karan and DKNY presented lots of different options and variations. As always Issey Miyake did not disappoint either.
5. Lots of belted looks
Belts are definitely in favour the coming season with many designers belting their looks.
6. Graphical prints
Strong geometrical graphics were present in a lot of pre-fall collections as well.
Good skirt lengths!
Another great observation of all looks is that there were many knee high length skirts and dresses, which are great for women over 40!
For more of all my favorites of the 2013 pre-fall collections, head on over to the special pre-fall 2013 Pinterest board to get a complete overview and don't forget to follow me on Pinterest!
Which are your favorites from the 2013 prefall collections?